The beginning of the new academic year will soon begin at the Shupyk National Healthcare University of Ukraine. In the conditions of a potential Covid-19 pandemic, the Department of Oncology is carefully preparing for the admission of the 1st year of study interns for the cycle of "Clinical Oncology".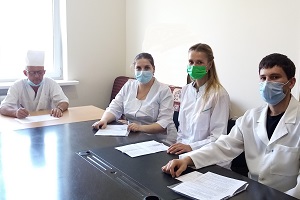 Professor Prokip Hordiychuk, Head of the Oncology Department, took care of the creation of appropriate conditions for the study of interns. According to the current Order of the Ministry of Health of Ukraine for № 698 of 23.03.2020, paragraph 2, which states that the provision of medical and palliative care to patients with cancer in specialized departments of health care facilities is not subject to termination. The conditions for continuous theoretical and practical training of interns continue to improve at the department. The interns, in accordance with the number of students, were allocated a new spacious classroom in which the renovation was carried out — now it is clean, bright and very comfortable. The conditions created for the training of interns are optimal for the educational process to take place in accordance with the sanitary and hygienic requirements, taking into account the program of planned measures to prevent the occurrence and spread of Covid-19 coronavirus disease. 
On August 2, interns were registered to study full-time and part-time under contract. The head of the department Prokip Hordiychuk presented to the young specialists the internship plan and the tasks facing the young specialists. Interns got acquainted with the requirements for the level of theoretical and practical training. They were presented the structure of the clinical training base — the leading oncology center in Kyiv (KNP "Kyiv City Clinical Oncology Center") with its outpatient, diagnostic and inpatient potential. 
After an introductory interview, interns began the practical implementation of the curriculum in the specialty "Clinical Oncology".