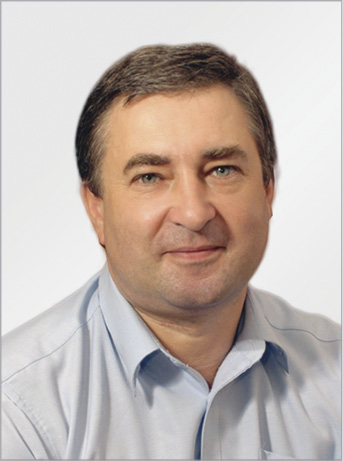 MD, PhD, Doct. Med. Sci. 
Professor of Oncology
Specialization: onco-surgery, clinical oncology, endoscopy
D-r Sorokin works on the basis of Kiev's Regional Hospital of the proctological and endoscopic departments. The proctologic department of the Kyiv's Regional Clinical Hospital (the second surgical building) is the base of the Department of Oncology, where Professor Bogdan Sorokin - oncology surgeon of the highest category, clinical oncologist and enodoscopist works. On this basis specialization courses and pre-certification cycles in specialty "endoscopy" are held, as well as the course of the thematic improvement of the "Rectal and colonic tumors".
The clinic has high-tech equipment - video gastroscopes, colonoscopes, double-banded enteroscope, capsular endoscopy. The surgical operating department of the proctology has technical facilities: a device for welding technologies, argon-plasma coagulation, a device for separation and purification of autologous blood cell-saver, a complex of equipment for transanal surgery. The clinic performs all types of endoscopic proctological operations, transanal microsurgical operations for large cervical tumors and I stage of rectal cancer (more than 140 interventions). All types of interventions for colorectal cancer are performed (more than 1000 operations). For the treatment of lower ampullary colon cancer the author's modification of the intersphincteric resection of the rectum has been developed and actively implemented (the treatment of over 30 patients without any local relapse). The development of reservoirs after low anterior resection was started. The restoration coloplasty in the author's modification provides almost 100% sutures strength and no complications.
The clinic has experience in conducting adjuvant chemotherapy at the request of patients. Treatment of patients is based on unified clinical protocols. Patients with gastrointestinal stromal tumors, sarcomas and neuroendocrine tumors are also consulted and treated in the clinic.