The department was founded in October, 1957 when the first 2-month course for anesthesiologists was held at the Department of Thoracic and Abdominal Surgery of Kyiv Clinical Institute for Advanced Training of Physicians (the head of the department was Full Professor M. M. Amosov).
In 1958 the 4-month course of anesthesiology, headed by Associate Professor A. I. Trishchynsky, was set up for training anesthesiologists at the Department of Thoracic Surgery,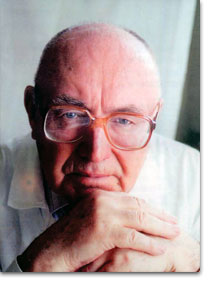 Anatoliy I. Trishchynsky, first head of the department (1967 - 1996).
The first Department of Anesthesiology in Ukraine was foundedin 1967 at Kyiv Clinical Institute for Advanced Training of Physicians (the head was Full Professor A. Trishchynsky). To develop anesthesiology as a new field of medicine in Ukraine as well as to create the department was promoted by the Minister of Health of Ukraine, Full Professor V. D. Bratus. Over the last half a century, the Department of Anesthesiology and Intensive Care of Shupyk National Medical Academy of Postgraduate Education, as well as anesthesiology in Ukraine, has made a long way of development. An anesthesiologist became a key person in rendering medical aid both in major clinics and in regional hospitals.
Throughout its existence the department has trained 8.000 anesthesiologists.
In 1988, the course of Children's Anesthesiology withdrew from the Department of Anesthesiology, and there was created the Department of Children's Anesthesiology and Intensive Care, headed by Full Professor G. I. Belebeziev.
The Department is constantly implementing innovative methods of training and academic performance rating