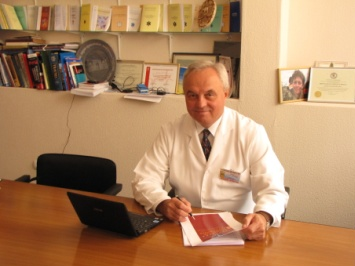 Georgiy G. Roshchin, MD, Dr. Sc., Full Professor, Head of the Department,
was a medical emergency response and recovery participant: flood (Ukraine, 2001, 2008), earthquakes (Turkey, 1999, India, 2001, Iran, 2003), armed conflict (Libya, 2011), other ecological, traffic and social accidents;
was awarded: the Ukrainian President's Certificate of Merit "For Conscientious Work, Considerable Personal Contribution to the Development and Consolidation of the Ukrainian State", the Diploma of the Verkhovna Rada of Ukraine "For His Great Personal Contribution to the National Security of Ukraine and the Protection of Human Rights and Freedoms", the Order of Merit, III degree, the Merit Badge of the Ministry of Emergencies of Ukraine "For Bravery in Emergency, ІІ degree", the Medal of the Government of California (the USA) "For Services in the Development of the Inter-agency Collaboration in Emergency Medical Care and Emergency Medicine between Ukraine and the USA", Winner of the State Prize of Ukraine in Science and Technology (2001).
Area of Expertise: looking for optimal tactics and  one-for-all approaches to delivering early hospital emergency medical care to people with multiple and concomitant mechanical injuries (multitrauma), developing new clinical and managerial technologies of delivering care to injured people.
Author of 540 published papers.