From July 07 to July 09, 2022, the 5th International Conference on the Science and Surgery of the Meniscus for Orthopedic Traumatologists was held in Luxembourg. Professor, MD Igor Zazirnyi was attended by from the department the congress.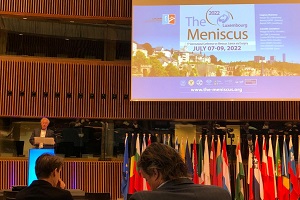 During the three-day visit, the delegate attended daily scientific sessions and practical workshops, improving his in-depth knowledge and skills in knee arthroscopy. Igor Zazirnyi notes the high level of reports and practical seminars. Among the speakers were well-known lecturers from Luxembourg (Alexander HOFFMANN), other European countries, Japan and South Korea.
Luxembourg's Minister of Foreign Affairs Jean Asselborn delivered a speech at the conference and supported Ukraine's accession to the European Union, which, of course, is extremely important for all Ukrainians.