Nowadays there is growing number of people with overweight and obesity worldwide and in Ukraine. Obesity is one of the leading risk factor of type 2 diabetes mellitus, cardiovascular disease, cancer and others severe diseases. Moreover, obesity is the very important risk factor of severe course and worse outcome of COVID-19.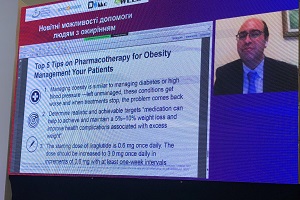 Therefore, the correction of body weight seems to be very important clinical task. The international conference discussing the new modalities for the treatment of people with obesity was held last week under the chairmanship of the head of department of diabetology Institute of Family Medicine of Shupyk National Healthcare University of Ukraine Professor Boris Mankovsky.
The presentations made by specialists from different areas of medicine were delivered by Professors Manfredo Rizzo (Italy), Larissa Mischenko, Lubov Sokolova. The conference was broadcasted on-line and was very well received by the audience.